Presentation of the "Student clubs" and the magazine titled "Vision".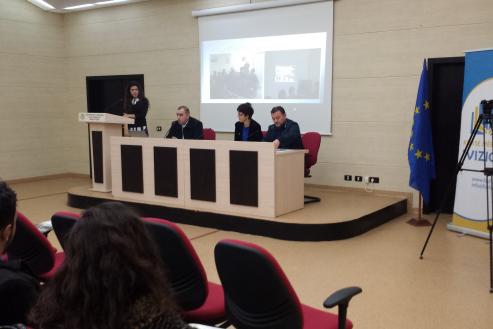 The "student clubs" presented the magazine titled "Vision" at the Conference Hall of the University Scientific Library, on 10.02.2016. This activity was organised in order to promote the magazine titled: "Vision" which came as a result of the work done by these student clubs.
Student clubs is supported by the Turkish Educational Foundation which aims the creation of new spaces for students by increasing cooperation among them and creating a bridge between the faculty auditoriums and the practice. In this activity there were presented 4 student clubs that are currently established. They are: Economic club, Teaching club, Sports club and the club of Journalism-Psychology.
The Dean of the Faculty of Economics, Prof. dr. Arjeta Troshani, welcomed the event and among other things said: "I am glad for the invitation to be part of this promotional activity and be part of the first magazine by publishing my interview. I congratulate you for the initiative you have taken which enlivens the student´s life ".
The program was as following:
Video-presentation of student clubs
Presentation of student clubs and projects, by Nansi Dragoti (coordinator of theses clubs).
Greeting speech by Mr. Brilant Ciroka, business representative.
Some of the ongoing projects are:
1. The Portfolio of an Economist
2. The Science Fair
3. The Best Teacher
4. Mentorship Program
5. The tour "Knowing Albania"
Qualification of Academic University staff
Dr. and/or with Docents 39%