Faculty of Economics organised the International Scientific Conference titled "Cultural tourism across borders" CTAB 2013.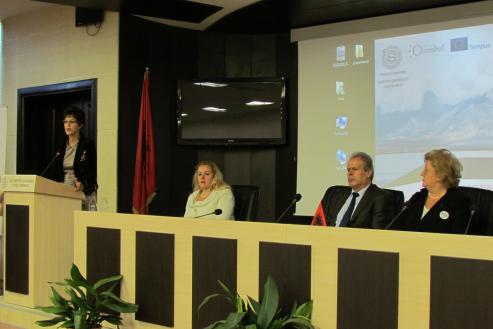 International Scientific Conference " Cultural tourism across borders" CTAB was the last activity organised in the framework of the commemorative activities organised on the 20th anniversary of the establishment of the Faculty of Economics, of Shkodra University "Luigj Gurakuqi". This conference was organized on 10.25.2013 and the participants on this conference were from different countries mainly from those countries that this University has collaboration with.
The pro- Rector, Prof.as.dr. Fatmir Vadahi, of Shkodra University said in his speech: "Today's conference organized by the Faculty of Economics culminates its festivities on the occasion of its 20th anniversary. We are all witnesses of the growth and strengthening in all aspects of this faculty. Teaching work of contemporary research is a basic pillar of quality in teaching thus it guarantees more and more the labor market of graduate students in this faculty. This conference is organised when tourism has become a priority for our country, especially the North Region of Albania. I think that environmental, legal and financial aspects will contribute to the policy making in tourism".
Prof.dr.Sara Santoro welcomed this conference on behalf of " G.d ' Annunzio " (Chieti - Pescara), which is the main support through TEMPUS project entitled "CHTMBAL". The professor said: "I want to congratulate you on this anniversary and thank the leaders of your faculty, in particular Arjeta Troshani, Brilanda Bushati and Mirjam Dibra. I'm really happy to cooperate with you".
Prof. Giovanni Padroni from the University of Pisa conveyed many greetings on behalf of the rector of this university. Then Mr. Padroni said that the interest of the world on tourism and cultural heritage has made ​​this sector to appear as a major industry. He urged students to make possible that tourism and cultural heritage develops and achieves success in Albania. "You have touristic assets sufficient to assess and promote your tradition, your music and folk": concluded the professor.  Mr.Ted Oelfke, MBA, from Sandhills Community College, North Carolina (USA), expressed his satisfaction that is part of this Conference organised by the Faculty of Economics, especially in this jubilee.
The Dean of the Faculty of Economics, Prof. dr. Arjeta Troshani, after welcoming the participants said: "In our conferences we are always trying to focus on the most prominent problems of our economy. In this conference we are stressing the importance of cultural tourism. From year to year this is increasing but our focus is on quality of service which should be improved in Albania. The Tempus project titled "CHTMBAL" helped to establish the Masters program in tourism and cultural heritage which would help our students, to assess and promote the sector in the future".
The conference went on in two parallel sessions entitled: "Development of cultural tourism across borders" and "Managerial and financial reforms for the development of cultural tourism".
Program Session 1. Room A3 "Cultural tourism development across borders" Chairs: Prof.dr. Sara Santoro, Prof.Dr.Arjeta Troshani, Prof.as.dr. Brilanda Bushati.
THE QUALITY EVALUATION IN PROJECT MANAGEMENT Massimo Bianchi, Laura Tampieri, Daniele Valli Casadei, Gabriele Branchetti , University of Bologna School of Economics, Management and Statistics Forlì
The big inverted U - ∩ Adriana Galvani, Oltion Preka, University of Bologna – IT
CULTURAL HERITAGE VALUES AS POTENTIALS FOR DEVELOPMENT OF TOURISM IN THE REPUBLIC OF KOSOVA. Dr. sc. Afrim Selimaj prof ass, University "Haxhi Zeka"/Faculty of menagement of Tourism, hospitality and environment, Pejë Dr. sc. Bedri Millaku - University of Prishtina, Faculty of Education Pristina, Kosova Msc.Bekë Kuçi, Phd-candidat, University of Peja/Business Faculty, Pejë Msc.Muhamet Kelmendi, Phd-candidat .
LOCAL GOVERNMENT ENTITIES AND THEIR ROLE IN PROMOTING CULTURAL TOURISM: THE DECENTRALIZATION PROCESS AND REGIONAL STRATEGIES Blendi Himçi MsC, Arber Gjeta, PhD, Fakulteti Ekonomik, Universiteti "Aleksandër Xhuvani", Elbasan
MUSEUMS AND CULTURE TOURISM: HOW TO LINK THE TOURISM MARKET APPROACH WITH THE CULTURAL HERITAGE INSTITUTIONS Aurora Kamberi , PhdCandidate ; University of Tirana, Faculty of History
THE TOURISM IN APOLONIA SITE: THE MUSEUM, THE SITE AND VISITOR BEHAVIOR(CASE STUDY) Dorina Xheraj-Subashi (PhD candidate in Museology) Centre of Albanian Studies.
CULTURAL RESOURCES IN THE REGION OF GRAMSH, AND THEIR MANAGEMENT Msc. Elvira Bollobani (Dodoveci) University , "Aleksandër Moisiu", Business Faculty, Durrës.
DECENTRALIZATION AND CULTURAL TOURISM: WITH SPECIFIC REFERENCE TO THE MUNICIPALITY OF TETOVO Mislim Zendeli,State University of Tetova; Besa Xhaferi State University of Tetova Jehona Musliu State University of Tetova
EU IPA FUNDS AS AN OPPORTUNITY TO PROMOTE SLOW TOURISM THROUGH CROSS-BORDER COOPERATION BETWEEN ALBANIA AND MONTENEGRO Ljiljana Pjerotic, PhD Candidate, Faculty of Business and Tourism,Budva, Montenegro Ivona Jovanovic, PhD, University of Montenegro,Faculty of Tourism and Hotel Management Kotor, Montenegro
GEOCULTURAL DEFINITION OF MONTENEGRO AND ITS TOURIST VALORIZATION Miroslav Doderović and Slobodan Kasalica, Zlatko Bulić;
THE DYNAMICS OF TURISM IN THE CROSS-BORDER TRIANGLE: ALBANIA, MONTENEGRO AND KOSOVO Zef GJETA (Prof. As. Dr), Ndoc VATA (Dr.) Agriculture and Environment Faculty, Agriculture University, Tirana Albania, Fatmir VOCI (Dr.) Free Lander Expert, SNV project, Tirana Albania, Agim PEPKOLAJ (MSc.) Payment Agency, Ministry of Agriculture Food and Consumer Protection, Tirana Albania
MEDICAL TOURISM AND GLOBALIZATION OF MEDICINE Doc.Dr.Nevruz Zogu College Lecturer in "BUSINESS"
POSTER PRESENTATION
MUSEUM MANAGEMENT – SHKODRA HISTORIC MUSEUM CASE Prof.dr.Arjeta Troshani , Prof.Dr.Sadije Bushati Economic Faculty, Shkodra University.
LEGISLATIVE CHANGES THROUGH THE LEGAL FUNCTIONALITY A CONDITION FOR REGIONAL TOURISM DEVELOPMENT OF TOURISM ORGANIZATIONS IN KOSOVA Dr.sc. Armand Krasniqi, prof asoc. Universitetit "Haxhi Zeka" Peje- Kosovë,
SERVICE RECOVERY AN IMPORTANT OPPORTUNITY TO RETAIN A VALUED CUSTOMER Arjeta Anamali, PhD candidate,Shkodra University,Albania; Prof.As. Dr.Drita Kruja, Shkodra University, Albania; Ted Oelfke, MBA Sandhills Community College, USA
FLOWS OF TOURISTS AND MEASURING OF TOURISTIC CONSUMER SATISFACTION IN SHKODRA REGION Prof.As.PhD Brilanda BUSHATI, Prof.As.PhD Fatbardha MOLLA , Prof.As.PhD Elez OSMANI; Economic Faculty, Shkodra University
MUSEUMS AND TOURISM: CURATOR PERCEPTIONS OF SHKODRA MUSEUMS FOR TOURISM. Dr. Mirjam Dibra- Tourism Department, Faculty of Economy, Shkodra University "Luigj Gurakuqi" ; Fatmir Juka- Supervisor of Historical Museum of Shkodra
THE RE-EVALUATION OF THE TRADITIONAL CULINARY OFFER. THE IMPORTANCE OF THE TRADITIONAL OFFER IN ATTRACTING TOURISTS. Romina Dhora PhD (c) ,Mersida Bala PhD(c),Lecturer in the University of Shkodra
THE ROLE OF CRIMINAL LEGISLATION AS A TOOL IN THE DEVELOPMENT OF TUORISM IN ALBANIA Prof.As. Jola BODE, Ma. Lirime CUKAJ , Faculty of Law, Tirana University
THE ROLE OF THE BUILDING MONUMENTS IN ANAMORAVA'S TOURISM DEVELOPMENT MA. Faik Sahiti
TOURISM LEGISLATION, A POTENTIAL ON VREATING CREATION OF CONDITIONS FOR DEVELOPMENT OF TOURISM IN THE WESTERN KOSOVA Majlinda Belegu PhD (c), Bashkim Rrahmani PhD (c) University "Haxhi Zeka" Peje Kosova
DEVELOPMENT OF SEASIDE TOURISM IN DURRES CITY IN THE FRAME OF SUSTAINABLE TOURISM. Majlinda Muka PhD candidat, Business Faculty Lecturer University " A. Moisiu" Durres,
INSTITUTIONAL DOCUMENTATION AND PROTECTION OF HISTORICAL AND CULTURAL HERITAGE MONUMENTS MA. Pajazit Hajzeri Middle low school"Elena Gjika",,
TOURISM, STRATEGY FOR SUSTAINABLE DEVELOPMENT. CASE STUDY KUKES REGION Msc. Majlinda Shehu (Gjana) MPA. Doriana Gjuta Msc. Pashie Meçka ,Tirana University
TOURISM IN A LANDLOCKED COUNTRY: THE CASE OF THE REPUBLIC OF MACEDONIA Rufi Osmani ,Brikend Aziri, Izet Zeqiri, Faculty of Business and Economics at the South East European University; Tetovo, Macedonia
TOURISM DEVELOPMENT THROUGH MONUMENTS OF CULTURAL AND HISTORIC HERITAGE IN KOSOVA Qazim Namani, PhD Candidate ,Senior Officer for Cultural Heritage, Kosova Institute for Monuments Protection (KIPM)
THE OFFERING OF CULTURAL TOURISM IN LEZHA AND ITS MANAGEMENT CASE STUDY: MEMORIAL OF SKANDERBEG Silvana Bushi, MSc Shkodra University
THE CULTURAL AND NATURAL HERITAGE AS AVAILABLE PROPERTIES IN THE SERVICE OF TOURISM DEVELOPMENT IN GJIROKASTRA REGION Valbona DURI Associate Professor , Msc. Irena Boboli ,Msc.Armand Hysi Geography Department, Faculty of Education and Social Sciences, "Eqrem Çabej" University, Gjirokastër ,
TOURISM AS A KEY TO ECONOMIC DEVELOPMENT IN KOSOVO Doc.Dr.Shpetim Rezniqi Director of HEO in K.K.Gjakovë
Session 2. Room 307: "Management and Financial reforms in Cultural Tourism Development" Chairs: Prof. As.Dr. Drita Kruja, Dr. Albana Boriçi, Dr. Blerta Dragusha
THE INTERRELATIONSHIP BETWEEN TOURISM AND FINANCIAL SERVICES (NORMATIVE APPROACH) Dr.Ilir Hoti, Msc Ada Aliaj, Msc Brunilda Licaj University"Aleksander Moisiu"
THE IMPACT OF HUMAN RESOURCES ON COMPETITIVENESS OF TOURISM SECTOR Alba Berberi (Mirashi) Msc, Mario Curcija, Msc, Dr. Emirjeta Bejleri (Mema) Lecturer ,University "L. Gurakuqi ,Faculty of Economy", Shkoder
THE QUALITY OF THE BANKING SERVICES BETWEEN THE PERCEPTION OF THE CUSTOMERS. Arjeta HALLUNOVI PhD Candidate Lecturer, Faculty of Business, "Aleksander Moisiu" University, Durres
MANAGEMENT OF TOURISM RESOURCES AND IMPACT OF TOURISM IN GROWING AND ECONOMIC DEVELOPMENT OF KOSOVO Besnik Zekaj, PhD(c) Faculty of Business, Public University "Haxhi Zeka"- Pejë
A SURVEY STUDY OF THE POSSIBILITIES FOR LOCAL REVITALIZATION THROUGH INTERNATIONAL TOURISM: EVIDENCE FROM SADO ISLAND, JAPAN. Blendi Barolli Phd Researcher Center for Fostering Innovative Leadership University of Niigata, Japan
FINITE DIFFERENCE METHODS IN ECONOMICS , WITH SPECIAL APPLICATION IN TOURISM Faruk Belegu , European College "Dukagjini" in Peja, Naim Braha , University "Hasan Prishtina " in Prishtinë
FISCAL POLICIES AND THEIR ROLE DURING DIFFICULT PERIOD OF ECONOMY TRANSITION IN ALBANIA Dr. Sc. Ilir Kaduku Agricultural University of Tirana , Msc. Xhenet Syka,Europian College "Dukagjini" Peje.
FOREIGN DIRECT INVESTMENT AND THEIR INFLUENCE IN ALBANIAN TOURISM SECTOR MSc. Llesh Lleshaj, MF. Griselda Çela,Assistant Professor, Dep. of Finance, Faculty of Economy, University of Tirana
SOCIAL CAPITAL, MIGRATION AND TOURISM: ALBANIAN SOCIETY CASE Matilda Likaj Shaqiri Ph.D Cand.,Department of Educational Sciences Faculty of Educational & Philology, Bedër University
GLOBALIZATION AND GLOBAL INTEGRATION PROCESSES IN KOSOVO MSc.Venera Kelmendi ,Public University "HAXHI ZEKA" PEC
CREATIVE CITY & TOURISM Violeta Plumbi (Aliaj)
POSTER PRESENTATION
AN EMPIRICAL STUDY OF SERVICE QUALITY FACTORS IMPACTING TOURIST SATISFACTION: VELIPOJA BEACH Dr. Mirjeta Beqiri, Associate Professor,Gonzaga University, School of Business Administration, USA Dr. Ardita Boriçi , Dr. Albana Boriçi (Begani) ,Dr. Arjola Dergjini, University of Shkodra, Faculty of Economics, Department of Business-Administration
TITLE OF THE PAPER: INVESTMENTS IN SUSTAINABLE TOURISM, A CONTRIBUTOR OF ECONOMIC GROWTH IN THE REGION OF SHKODRA. Dr.Blerta Dragusha, Kleida Tufi Heta MF, PhD(c),Lecturer at the Finance-Accounting Department, Economic Faculty, University of Shkodra "Luigj Gurakuqi"
CULTURAL TOURISM AND ITS EFFECT IN THE REVENUES OF SHKODRA MUNICIPALITY Albana Kastrati, MK, PhD (c), Aurora Pulti, MF, PhD (c) ,Erjola Barbullushi, MF, PhD (c) Lecturer of Finance ,University of Shkodra
SOME KEY ELEMENTS ON CONTINUOUS IMPROVEMENT IN HOSPITALITY AND TOURISM Brikenë Dionizi, University of Shkodra Economic Faculty,Donika Kërçini Agricultural University of Tirana Faculty of Economy and Agribusiness
THE ROLE OF INVESTMENT ON TOURISM Suzana Kokiçi, MFK, economist, Shkoder Municipality, Peter Saraçi MSC,Ylvije Kraja, MBA PhD(c), Universiteti "Luigj Gurakuqi"
DEMOGRAPHIC CHANGES AND FINANCIAL STABILITY OF SOCIAL SECURITY SYSTEM IN ALBANIA Nevila Mehmetaj, Phd (c) University of Shkodra "Luigj Gurakuqi",
SEASONAL BANK LOANS FOR TOURISM BUSINESSES IN ALBANIA: AN APPROACH OF SARIMA MODEL Adriatik Kotorri,PhD., Lecture at Faculty of Economy, Tirana University Gentjan Çera, MSc.,Faculty of Economy and Agribusiness, Agricultural University Aurela Xheka,MSc., Faculty of Economy, Tirana University
IMPACT OF MANAGEMENT IN QUALITY OF SERVICES OFFERED BY PUBLIC ADMINISTRATION: CASE OF ALBANIA Prof. Assoc. Dr. Besa Shahini, Faculty of Economy, University of Tirana, Albania MSc. Yllka Azemi, "Globus" College, Pristine, Kosovo
DECENTRALIZATION AND CULTURAL TOURISM IN ALBANIA IN THE PERSPECTIVE OF EUROPEAN INTEGRATION Egla Mirashi ,Lawyer; Professor at the Faculty of Law - University of Shkodra, Phd in process .
ALBANIAN LEGAL FRAMEWORK ON TOURISM. TOURISM AND CONSUMER PROTECTION Dr. Ersida Teliti,Lecturer Faculty of Law,University of Tirana, Dr. Besnik Çerekja, Vice Dean Faculty of Law , University of Tirana
TOURISM, A POTENTIAL SECTOR FOR THE FOREIGN DIRECT INVESTMENTS IN ALBANIA Dr. Oltjana Zoto,European University of Tirana
EDUCATION AND DEVELOPMENT OF HUMAN RESOURCES AS A KEY POTENCIAL IN THE MANAGING THE TOURISM BUSINESS IN KOSOVA PhD (c) Shqiponja Nallbani University"Haxhi Zeka"Peje.
MANAGERIAL ENVIRONMENT OF SMEs IN KOSOVO Dr.Sc. Husnija Bibuljica Prof.Asoc. Sami Gjuka – Msc University"Haxhi Zeka"
APPLICATION OF STRATEGIC MANAGEMENT ON IMPROVEMENT OF TOURISM IN ALBANIA Rrezarta Gashi, PhD candidate.The European University of Tirana.
THE DYNAMICS OF THE MOVEMENT OF PASSENAGERS AND TOURISTS AT THE MAIN BORDER CORRIDOR 8, BETWEEN(REPUBLIC OF MACEDONIA-ALBANIA) Zija Zimeri
Scientific Committee: 1. Prof.dr.Artan Haxhi, Shkodra University 2. Prof.dr.Sara Santoro, Chieti University 3. Prof.dr.Massimo Bianchi, Bologna University 4. Prof.dr.Dhori Kule, Tirana University 5. Prof.dr.Sherif Bundo, Tirana University 6. Acad.prof.dr.Apolon Baçe, Institute of Albanian Cultural Monuments 7. Prof.dr.Piotr Dyczeck, Warsaw University 8. Prof.dr.Eva Subias, Catalan Archeology Institute of Tarragona 9. Prof.dr.Ted Oelfke, Sandhills Community College 10. Prof.dr.Mazllum Baraliu, Prizren University 11. Prof.dr.Muris Cicic, Sarajevo University 12. Prof.dr.Sulo Haderi, Tirana University 13. Prof.dr.Fatmir Memaj, Tirana University 14. Prof.dr.Liljana Elmazi, Tirana University 15. Prof.dr.Vjollca Bakiu, Tirana University 16. Prof. dr. Andreas Kagermeier, University of Trier, Germany 17. Prof.dr.Mahir Hoti, Shkodra University 18. Prof.dr.Sadije Bushati, Shkodra University 19. Prof.dr.Arjeta Troshani, Shkodra University 20. Prof.as.dr.Mirjeta Beqiri, Gonzaga University 21. Prof.as.dr.Andriela Vitiç, Tourism Kotor Faculty 22. Prof.as.dr.Afrim Hoti, Durres University 23. Prof.as.dr.Drita Kruja, Shkodra University 24. Prof.as.dr.Elez Osmani, Shkodra University 25. Prof.as.dr. Brilanda Bushati, Shkodra University 26. Prof.as.dr.Fatbardha Molla, Shkodra University 27. Dr. Huong Ha, University of Newcastle, Singapore 28. Dr.Valentina Ndou, Salento University 29. Dr.But Dedaj, Prishtina University 30. Dr.Blerta Dragusha, Shkodra University 31. Dr.Albana Begani, Shkodra University 32. Dr.Rokin Daberdaku, Shkodra University 33. Dr. Simon Lufi, Shkodra University 34. Dr.Nevila Dibra, Shkodra University 35. Dr.Emirjeta Bejleri, Shkodra University 36. Dr.Mirjam Dibra, Shkodra University 37. Dr.Ardita Boriçi, Shkodra University 38. Dr.Arjola Dergjini, Shkodra University
Organizing Committee: 1. Prof.dr.Arjeta Troshani 2. Prof.dr.Sadije Bushati 3. Prof.as.dr.Drita Kruja 4. Prof.as.dr.Elez Osmani 5. Prof.as.dr.Brilanda Bushati 6. Dr.Blerta Dragusha 7. Dr. Albana Begani
Qualification of Academic University staff
Dr. and/or with Docents 39%