The delegation from the French Embassy in Albania visits Shkodra University.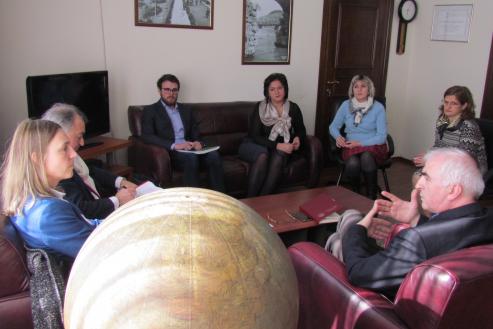 The delegation of the French Embassy in Albania consisting of (Paul Souligoux, Attaché of cooperation for French Language; Rose-Anne Bisiaux Counselor for Cooperation and Culture; Stephane Orosco, Cultural Attaché) had a meeting with the representatives of Shkodra University "Luigj Gurakuqi" on 10th February, 2017,
The meeting began with an overview of Shkodra University made by the Rector, Prof.dr.Adem Bekteshi.
During the meeting the representatives of the French Embassy stressed their support for the progress of bilateral relations and partnership with the University of Shkodra.
Prof.dr. Adem Bekteshi highlighted the cooperation between the University of Shkodra and French universities mainly in the field of staff and students exchange within the Credit Mobility framework. He also appreciated the fact that it would be very interesting for the University of Shkodra if a professor of French language would come and work full-time at the Department of Roman Studies.
During the meeting it was agreed that the French Embassy sends its own representative to attend one of the "Open Days" which will be hosted by the University of Shkodra in March. The representative can provide information on the importance of the French language and the French university system.
Qualification of Academic University staff
Dr. and/or with Docents 39%