Students of Shkodra University performed "the Rhinoceros " by Jonesko at the city theatre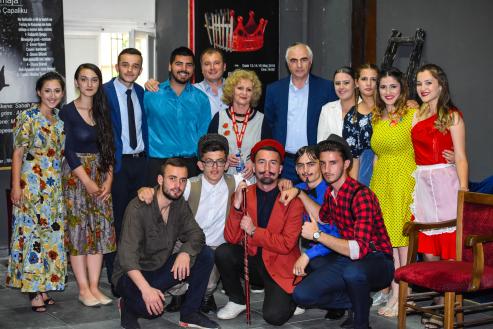 In the framework of the 60th anniversary of the establishment of Shkodra University "Luigj Gurakuqi", the theater performance titled "the Rhinoceros" by Eugen Jonesko was put into city theatre stage by the University students. 
This show was an initiative of the Rectorate of Shkodra University under the special care of the Rector, Prof. dr. Adem Bekteshi. It is becoming a tradition now for such performances after the Aristophan's comedy "Frogs" shown on May 27 and 28, 2015.
After some auditions announced for this show, 13 students from different faculties were selected. The preparation started on 29 March, 2017 it went on every day at the studios of "Migjeni" theater.
During this artistic journey, students also developed some group working skills and art discipline which are very valuable for their professional life.
The drama was showed at "Migjeni" theater on May 29 and 30, 2017, at 19:00. It was attended by professors, students, city community and was accompanied by a widespread media echo.
"Rhinoceros" is undoubtedly one of the clearest and the most prominent parts of Eugene Jonesko's European scene. The drama rises as a powerful indictment against any kind of dictatorship, whether red or black, that makes a man naughty and changes him to an animal if he wants to survive. This makes him also hypocrite discharging from ideals and turning and making him a funny toy. His word removes all meaning and makes man feel alone even when he is in the midst of others.
This performance had a good expectation from the spectator, as in essence it was humanistic, full of irony and humor, which is an expression of spiritual supremacy. The show conveyed to the spectator-students the message of trust to the man who does not surrender and proudly defends his human ideal. This is a drama against collective epidemics and hysteria, leaving the path open for diverse interpretations. Its liberal idea coincides with the university ideas that always go against totalitarianism.
Idea and realization by Dr. Gëzim Puka, lecturer at the Department of Literature.
Directed by Mrs. Merita Smaja and Dr. Gëzim Puka.
All the roles were interpreted by the students of Shkodra University.
Qualification of Academic University staff
Dr. and/or with Docents 39%