Students graduation ceremony of Shkodra University.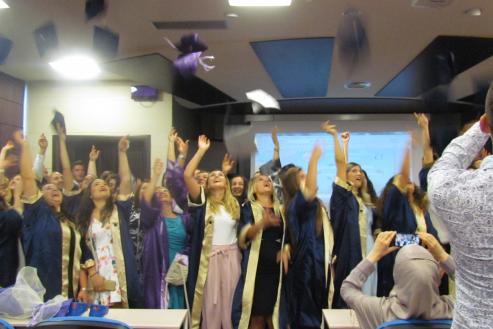 The ceremony of the awarding the diplomas to students of the second cycle (Professional Master and Master of Science) for the academic year 2016-2017 took place on July 17, at 19.00, at the A3 conference room of Shkodra University "Luigj Gurakuqi". Members of the academic staff, students, parents and relatives were present in this ceremony.
The ceremony was opened with the Albanian Hymn.
The moderators of this ceremony were students Hymerta Ura and Senad Tula from the Journalism study program.
The Rector of Shkodra University, Prof.dr. Adem Bekteshi, was the first who welcomed the ceremony. He congratulated the students on the success achieved.  Prof. Bekteshi emphasized that the links of graduated students with the University will continue in the future.
Two of the actors of the "Rhinoceros" drama, Eduard Hysaj and Aleksander Prengaj interpreted the poem "Sarkastik" by Gjergj Fishta the lyric poetry created by Aleksander Prengaj.
Six excellent students from six faculties of USH welcomed the ceremony.
The graduation ceremony was finalized with the traditional throwing graduation caps.
Qualification of Academic University staff
Dr. and/or with Docents 39%