The promotion of the book titled "Shkodra Songs and Singers" by Ferid Bala.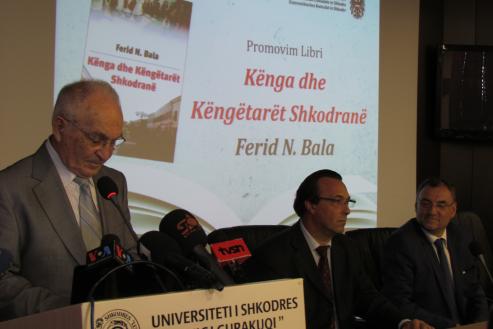 The book titled "Shkodra Songs and Singers" written by Mr. Ferid Bala was promoted on 23. 06. 2014. This ceremony took place in the conference room of the Rectorate of Shkodra University "Luigj Gurakuqi".
The event was held under the auspices of the Austrian Embassy in Albania, Austrian Honorary Consulate in Shkoder and Shkodra University "Luigj Gurakuqi". There participated authorities from central and local government, music specialists, professors and students.
This activity was opened by the music lecturer Mr. John Shllaku who listed the most important works of Mr. Farid N. Bala. He also made an assessment to this book.
The composer and music scholar Mr. Zhani Ciko praised in his speech the tireless work of Mr. Bala in the studies of Shkodra folk songs. Mr. Frano Kulli, representative of "Gjergj Fishta" publishing house, expressed the satisfaction that this house published this encyclopaedic monograph because it identifies songs and singers that best serve to our national identity. The researcher from Gjakova, Mr. Behar Arllati, said that the monograph was prepared by a highly professional hand.
The activity went with the greeting speeches of Mr. Thomas Schnöll (Ambassador of Austria in Albania), Mr. Gjergj Leqejza (Honorary Consul of Austria in Shkodra), Mrs. Nora Malaj, (Deputy Minister of Education and Sports), Mr. Zef Çuni (Deputy minister of Culture).
At the end, the author of this book, Farid N. Bala, thanked all the participants for their participation and the respect shown towards him and his work.
Qualification of Academic University staff
Dr. and/or with Docents 39%