Promotion of the book "Dritëro Agolli´s rhyme dictionary" by Mina Gero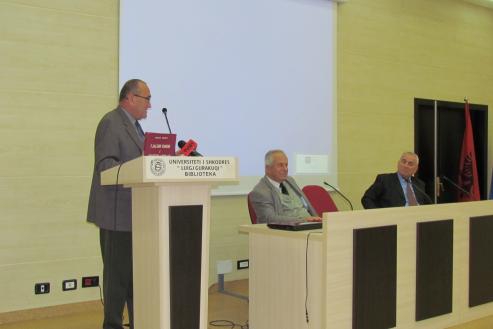 The Faculty of Social Sciences of Shkodra University organised the promotion of the book "Dritëro Agolli´s rhyme dictionary" by Mina Gero in collaboration with the Publishing House "Toena", on November 8, 2013.
Prof . dr . Tomor Osmani made ​​the presentation of Mina Gero´s work "Dritëro Agolli´s rhyme dictionary".  Among other things he said that that meeting was not just promoting this monograph. In this case people would appreciate the wish and the passion of the author for not stopping his creative work and study.
Prof . dr . Tefe Topalli, made ​​the presentation "A linguistic work arising from poetry.The speaker stressed that the linguistic work of Mina Gero proved that "literary" monuments ​​were also "language" monuments.  
The Dean of the Faculty of Social Sciences, Prof.as.dr. Mimoza Priku, said: "Today we are promoting an important work firstly because it is a novelty in today's Albanian studies. This is crowned with a full paper on rhyme vocabulary of Dritëro Agolli. Secondly, this work is designed by our colleague and much honored professor and researcher, Mr. Mina Gero".
Prof.as.dr. Rrezarta Draçini, Head of the Language Department, said: "Studying the language of a writer means to enter and understand the game that he makes with linguistic performance, see that he has the ability to select linguistic structures, influence and provoke the reader's mind. Professor Mina Gero has done so with his book. Mr. Gero has de-codified linguistic elements in this game and gave us a very interesting model of how to do such a study. "
In this promotion the former university rector, Prof. dr. Mahir Hoti also welcomed this activity and brought his memories and emotions at work with his colleague prof. Mina Gero. He praised him as a great a researcher.
Estimation for the work came to the meeting by Prof. dr. Alfred Capaliku, who entering into a dialogue with Professor Gero said that the rhymes in Agolli´s works automatically has a huge impact on folk poetry.
Mina Gero expressed his satisfaction and gratitude to colleagues and students who made possible the organization of this promotion. He said: "Today I am able to come back after 13 years and to communicate with you. I feel this meeting in the depths of the soul and will remember for a long time". He also brought to the participants Dritëro Ago lli´s greetings.
This is the first dictionary of this kind published in Albanian.
Qualification of Academic University staff
Dr. and/or with Docents 39%