Opening Ceremony of the New Academic Year 2017-2018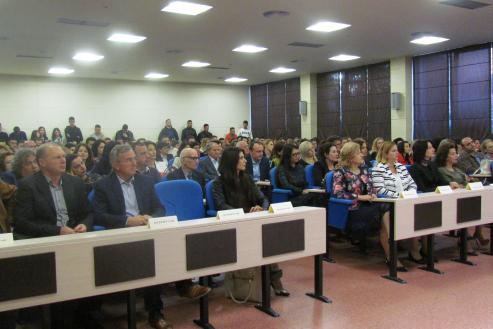 The opening ceremony of the new academic year 2017-2018 was held at the Rectorate of the Shkodra University on Monday, 16 October. The event was attended by the Vice -Prime Minister of the Republic of Albania, Mrs. Senida Mesi, representatives of local government, representatives of the academic staff and students of Shkodra University.
In his opening speech, the Rector of Shkodra University said that that was a jubilee year for the University of Shkodra "Luigj Gurakuqi". The 60th anniversary of the foundation of Shkodra University found it at a much higher level, with great achievements, a consolidated profile, as well as one of the Universities that has made a significant contribution to the formation of a large group of intellectuals in Albania.
He also welcomed the students of Shkodra University and thanked the students enrolled for the first time by praising them for the selection they had made.
Prof. Adem Bekteshi added: "On behalf of the academic and administrative staff, I would like to assure you that your choice will be justified by our dedication in work and qualitative teaching. We will offer you a qualified and motivating academic studying place, as well as challenging all the time you will be studying at our University.
Ms. Senida Mesi, Vice - Prime Minister of the Republic of Albania, expressed her happiness for being part of the ceremony and assured that she and the government she represents will support the development of higher education. She stated that her work as administrator of the University of Shkodra for two months had helped her to better understand the problems of this University and she assured the participants for full support.
The ceremony continued with a video message sent by Prof. Margaret Fraser, a professor at the Metropolitan State University of Denver. University of Shkodra already has a consolidated co-operation with this University.
The ceremony was closed with the greeting of the student Jennifer Tota whom she addressed all the young students.
Qualification of Academic University staff
Dr. and/or with Docents 39%