Meeting with well-known Italian writer Claudio Magris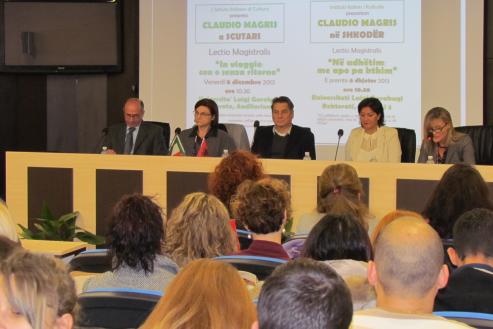 University of Shkodra " Luigj Gurakuqi " in collaboration with the Italian Institute of Culture and Publishing House "Aleph " organized a meeting with well-known Italian writer Claudio Magris. This activity took place at conference room of this University. There participated teachers, students, intellectuals and cultural different personalities of Shkodra city.
This activity was opened by the Italian lecturer of the Department of Roman studies of Shkodra University Carmine di Giandomenico, who made a brief presentation of the program of Lectio Magistralis titled: "The journey, with or without return".
The director of the Italian Institute of Culture, Mrs. Fulvia VENEZIANI thanked the writer who had accepted the invitation to participate and offer the open lecture to participants. She also thanked Dr. Alma Hafizi (professor of Shkodra University) for organizing that event.
Dr. Eliana Laçej made a comparison between Trieste and Shkodra in the socio-cultural context.
Later Dr. Alma Hafiz discussed the biographical facts, the main work as well as favourite themes of the writer Claudio Magris. She stated that readers could find the full meaning of life in the writer´s work.
Taking the floor, the writer Claudio Magris said: "This is more a meeting than a Lectio Magistralis. I want to consider this meeting as a free conversation the with students and I would like to take the chance to praise the contribution of the professor of Shkodra University, Dr. Alma Hafiz who has approached my work with the reader through translation of "Danube".
He added: "I did what I could do in my work titled "Danube". Life is a real journey along Danube. In this novel I find myself, not just being immersed in the inner world but also out of it and around us".
Through an interesting speech Magris stopped to the motive of the travel of his most significant works.
The meeting continued in the form of an interactive dialogue between the author and the participants.
Claudio Magris, a writer, a critic and a scholar was born in Trieste in 1939. He graduated at the University of Turin where he continued to teach German language and literature until 1978. Currently he is a Professor at the Faculty of Literature and Philosophy at the University of Trieste. 
Qualification of Academic University staff
Dr. and/or with Docents 39%