Meeting between the Montenegrin government representatives and representatives from the University of Shkodra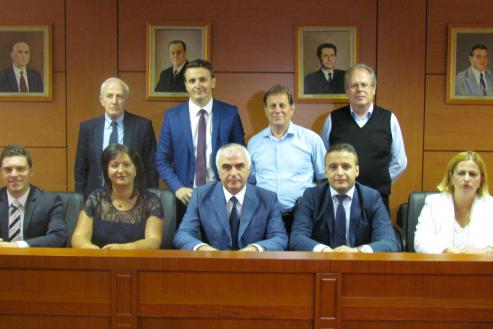 The meeting between the delegation from the Government of Montenegro with representatives of Mr. Mara Dukaj, (Deputy Minister of Education), Mr. Leon Gjokaj, (Deputy Minister of the Ministry of Human Rights Human Rights and Minorities) and Mr. Valon Dasharami, (Secretary of the same Ministry) and representatives of the University of Shkodra was held on Friday, September 15, at the Rectorate building of Shkodra University. The delegation was welcomed by the Rector of Shkodra University, Prof.dr. Adem Bekteshi and Deans of this University at the University premises.
 Prof. dr. Adem Bekteshi thanked the delegation for the visit by appreciating the important meeting and cooperation with joint projects and expanding the exchanges between the two universities of the two countries. One of the main points of the visit was the enrollment of Albanian people of Montenegro at the University of Shkodra "Luigj Gurakuqi". During the meeting there was agreed to offer quotas for the third cycle of studies for the students of Montenegro.
Prof. Adem Bekteshi also stressed out that the organization of joint trainings between school teachers as well as the opening the study program in preschool teachers in Albanian language at the University of Podgorica remains very important academic objectives of cooperation between the University of Shkodra and the Montenegrin educational institutions. On this occasion the contribution of our professors in the area of ​​education of Albanians in Montenegro was emphasized and appreciated.
Mr. Dukaj, Deputy Minister of Education thanked on behalf of the delegation and stressed the desire of the resident students in Montenegro to continue studying at the University "Luigj Gurakuqi" by considering it as a major destination for them.
Qualification of Academic University staff
Dr. and/or with Docents 39%